Hi, are you in planning to go to Dubai but cant figure what are the best tourist attractions. Well don't worry! We got you! Today we will be taking a look on the best tourist attractions to visit in dubai. Dubai is a city and emirate in the United Arab Emirates known for luxury shopping, ultramodern architecture and a lively nightlife scene. Burj Khalifa, an 830m-tall tower is the tallest skyscraper in the world. At its foot lies Dubai Fountain, with jets and lights choreographed to music. On artificial islands just offshore is Atlantis, The Palm, a resort with water and marine-animal parks
5 Tourist Attractions In Dubai That Everyone Must Visit:
5:Desert Safari Dubai:
Desert safari is a great way to spend 1 full day in dubai with great fun. You can enjoy the following activities:
 Camel Rides
 Sand Boarding
 Quad Biking
 Dune Buggy
Jeep Ride
4:Burj Al Arab:
Measuring 321m, the hotel was opening in 1999 and was designed to resemble a ship's sail. Reportedly the world's only 7 star hotel, Burj Al Arab offers the ultimate in luxury featuring a 180m tall atrium, a fleet of white Rolls Royce cars, dancing fountains and touches of gold leave everywhere.The Burj al Arab is a private resort, and it's closed to non-guests. However, you can visit if you have a dining reservation at one of the restaurants. But don't worry you can take a walk near it and experience the beautiful view of the sea, beach and Burj Al Arab itself.
3: The Dubai Mall:
The Dubai Mall is a shopping mall in Dubai. It is the largest mall in the world by total land area, and the 26th-largest shopping mall in the world. It has cheap and very expensive shops.With a total internal floor area of 5.9 million sq ft, The Dubai Mall has 3.77 million sq ft of gross leasable space and over 1,200 retail stores, two anchor department stores and more than 200 food and beverage outlets. If you cant afford to shop then dont worry visiting is still free!
2: Dubai Fountain:
The Dubai Fountain is a choreographed fountain system located on the 12 hectare manmade Burj Khalifa Lake, at the center of the Downtown Dubai development in Dubai, United Arab Emirates, also known as Dancing Fountains.Performances are held daily and last up to 5 minutes. In 2020, evening shows begin at 6 pm and are every half hour until 11 pm. There are also 2 performances in the daytime; timings are 1 pm and 1.30 pm (show times are 1.30 pm and 2 pm on Fridays).Its free of cost
1:The Burj Khalifa (Worlds Tallest Building)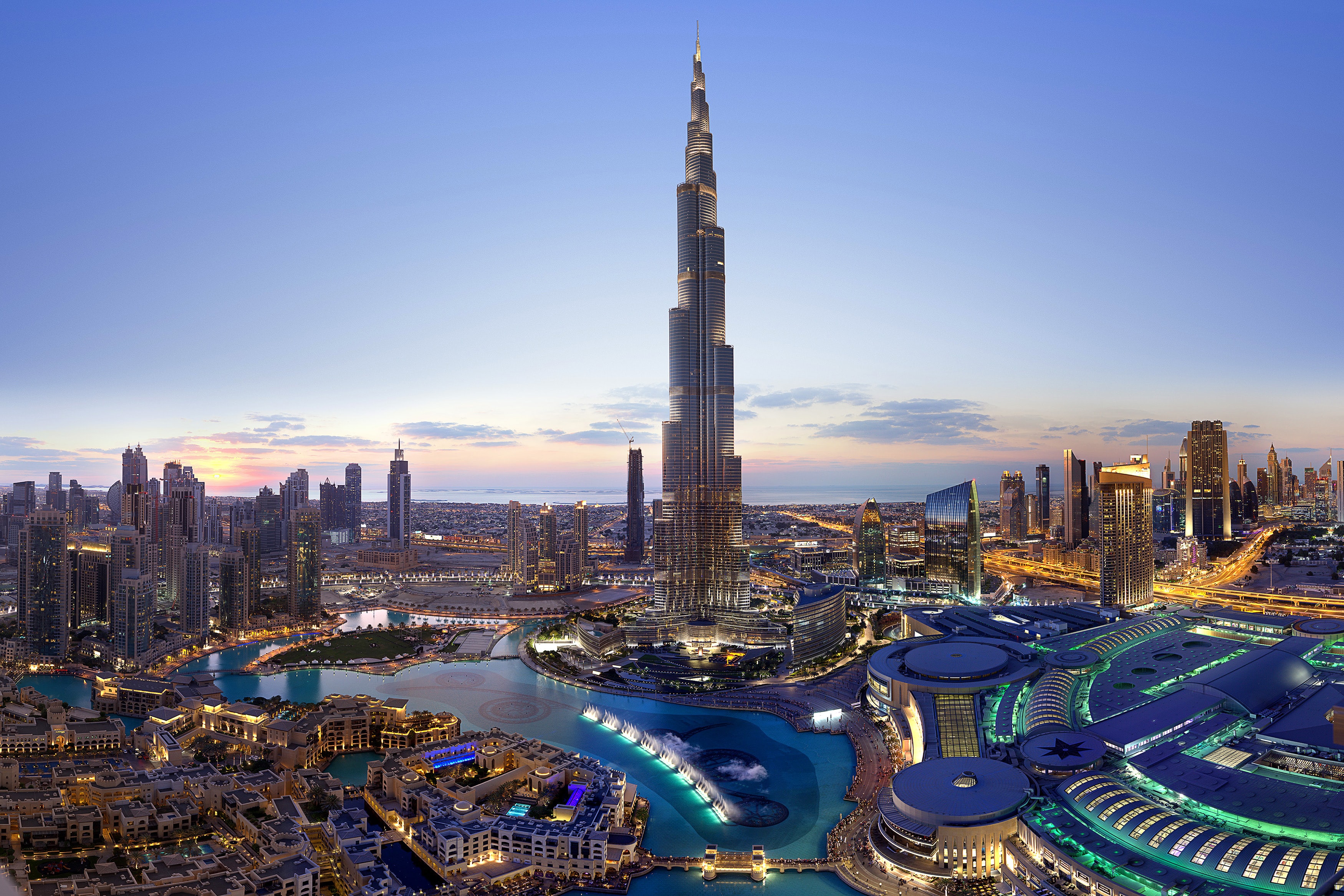 The Burj Al Khalifa is the worlds tallest skyscraper standing at the height of 829.8 m and a roof height of 828 m, the Burj Khalifa has been the tallest structure and building in the world since its topping out in 2009.It also offers an observatory on the 124th,125th and 148th floor. Enjoy panoramic views from levels 125 and 124 at your leisure, with this self-guided tour. Non-prime hours ticket (from 9 am to 3:30 pm and from 6:30 pm until closing): Adult (12 years+) – Ticket price: from 114 AED (about 31 USD) Child (4-12 years) – Ticket price: from 72 AED (about 20 USD)