Hi. Dubai is known for luxury cars, shopping, gold, tall skyscrapers and much more but its also known to be having the best restaurants in the world. Dubai is a city and emirate in the United Arab Emirates known for luxury shopping, ultramodern architecture and a lively nightlife scene. Burj Khalifa, an 830m-tall tower, dominates the skyscraper-filled skyline. At its foot lies Dubai Fountain, with jets and lights choreographed to music. Its is also known to be having the best theme parks in the world. On artificial islands just offshore is Atlantis, The Palm, a resort with water and marine-animal parks. What are the best places to dine in dubai?
1:Nathan Outlaw at Al Mahara
It is a very luxury and a very well known restaurant. You Dine in while experiencing a great and a live view of the ocean. It has ratings of 4.3.Nathan Outlaw brings his luxuriously laid-back approach to seafood to the city as one of the best places to eat in Dubai. The restaurant is not underwater, nor is the 'submarine' that takes you there real. Nonetheless, it is an extraordinary and unique experience dining within the vast aquarium that sets the scene for Nathan Outlaw Al Mahara
2:Eauzone
The atmosphere at Eauzone is casual during the day, reflecting the slow pace of the One&Only Royal Mirage and the lazy sea beyond. After sunset, however, this venue smartens up into a sleek, refined restaurant. The design is beautifully positioned around the pool, giving the impression that it is floating on the translucent water. It offers great views.
3:Zheng He's
Zheng He's is a very great restaurant to dine in and enjoy a great view. You can even spend a whole day there without getting bored. It offers great views. The setting adds to this fusion — on the 'dockside' of a canal that weaves itself into the Madinet Jumeirah resort, it has an atmosphere of ancient simplicity while retaining views of the Burj Al Arab and the Gulf beyond. 
4:Thiptara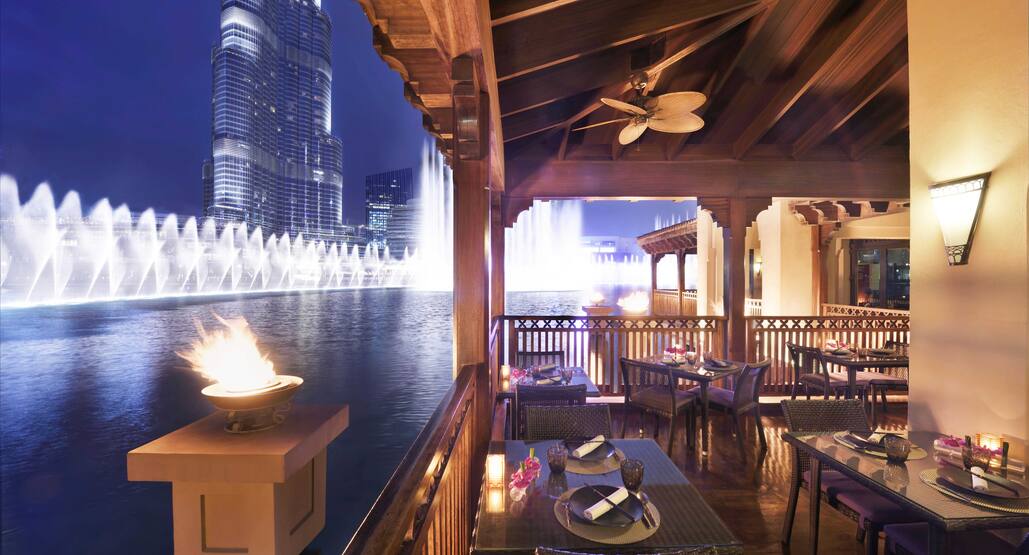 Located at Palace Downtown Dubai, Thiptara offers diners exemplary Thai cuisine with a focus on Bangkok-style seafood. Aptly named Thiptara, meaning 'Magic of the Water,' the elegant restaurant overlooks the Dubai Fountain, making it one of the most romantic restaurants in Dubai. 
It is a great restaurant offering large seating and quality food.
5:At.Mosphere Burj Khalifa
The costs for a dinner in the Burj Club including a visit to At The Top costs 83 dollar per person from 12 years, children between 4 and 12 years pay 76 dollar. The price for a normal At The Top ticket is between 35 and 40 dollar so a dinner at the Burj Club is for Dubai standards and the location very well priced. Located on122nd Floor, Burj Khalifa, Downtown Dubai – Dubai – United Arab Emirates